Products
Note: The Client-attracting Websites Program is offered as  home study program. If you're ready to discover how to get more visitors to your therapy website and turn more of them into clients, then the Client-Attracting Websites Webinar 
Program is for you.
In the program, I will walk you through the steps you need to take to turn your counseling or healing website into a client-attracting machine. You'll even see samples of successful healer and therapist websites. Click here to find out more.
Take control of your therapy private practice  finances before they take control of you. Learn how with the
Private Practice Finances Made Easy Home Study Program.
Karin Mizgala, a financial planner, and I help you through any confusion, doubts or overwhelm that you may have about private practice financial management and goal setting so that you can free up your time and energy to focus on building a rewarding and profitable private practice. You'll receive 4 Mp3 recordings, the transcripts of the recordings as well as a downloadable workbook and financial worksheets.
Find out more at: Private Practice Finances Made Easy.
Are you a therapist or counselor who is thinking about adding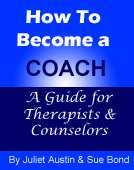 coaching to your services? Maybe you want to work with healthier clients and want to transition to a part or full time coaching business. The How to Become a Coach for Therapists ebook includes the information you need to know about coach training programs, certification and the business of coaching. You also receive the addendum for therapist and counselors that I created, which contains information specific to the therapists.
If you are thinking about entering the field of coaching you can save yourself a lot of time and money with this resource guide.
Find out more at: How to Become a Coach for Therapists.
If you are not a therapist, you can get this version of How to Become a Coach.